Gillingham 2-1 Spireites.
To concede in injury time is heartbreaking, to lose a whole game in injury time is down right devastating but thats what we managed to do after working so hard for a result. We started poorly not clearing out lines, but new signing Mark Hughes kept the ball well and we started to pass the ball better but as usual the final ball was lacking only when we did beat the offside trap Larkin was clean through and the keeper made a good save. Before that though a long range effort from Hughes was enough to give us the lead in the first half.
Second Half and the Gills make two substitutions whic hin effect change the game, Pouton played a defensive midfield role and pulled the strings as the Gills came into it, despite all the pressure our young defence held on well and we even had the ball in the net but Folan was offside. The came the two bombshells, the gills winger cut in from the outside of Jamie Lowry and former Blade Gary Mulligan levalled the game, in no time Deane Mcdonald unleashed a tremendous volley to win it for the Gills. And we had lost the game we looked all the way to winning, but we have done it ourselves so we'll have to take it on the chin and learn from our mistakes that games don't just last for 90 minutes sometimes there's another five!! Anyway onwards and let's hopefully upwards as we break from the league and go for the cups now!!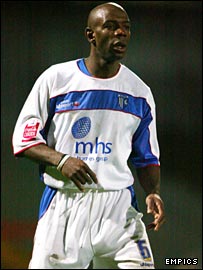 Ian Cox starred for The Gills