It was a drab,dull game only sparked into life when Barry Roche had to make a double save and when Derek Niven actually got three shots towards the goal and not corner flags as he always does.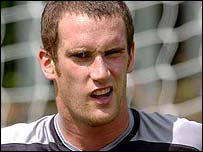 Roche Double Save
The Matchroom Stadium is being re-developed so the travelling support (500ish) were housed in the East Stand South Section which compromised of a load of wooden seats and a massive obscuring post which the editor and collegues was housed behind for the second half thus rendering chances and comments at a premium.
Well I could see that we dropped Kevan Hurst to to the bench for the dependable Gareth Davies and that we had one shot that went towards the goal with an effort by Wayne Allison and that was it.
Second Half was even worse as the post made it impossible to see our goal. So apart from Niven's three shots and two longe range efforts from Davies and Nicholson it wasn't a game for the neutrals as I was disappoined in the O's as well, the dangerous Alexander being marked out of the match by Blatherwick.
I was sat in front of Alex Bailey's family, and he had an ok game although he was caught out at the back post and was rescued by Roche's double save.
So is Roy Mcfarland a tactical genius or a cautious buffoon. I would just like to point out that we played catanacchio very well and we would have taken this result before the match.
On train home we sat near some very loud Sheffield United supporters whose team had just beaten Crystal Palace, I'm not surprised they were happy as they are "top of the league" as they frequently kept reminding us, but they were a nice set of lads really although if I hear John Denver one more time............