What they said?
Roy Mac "I'm really proud of my team because we came so close.
"That's three Premiership teams now who have not been able to beat us in normal time and Charlton couldn't even beat us on penalties.
"Derek Niven's penalty miss was one we couldn't really afford to miss in the shoot-out but I've nothing but praise for the lads."


Iain Dowie "I've been here a few times as a manager and you've got to pay a huge amount of respect to Chesterfield.
"They were magnificent from number one to 11 tonight and pushed us every inch of the way.
"Chesterfield deserved their moment in the spotlight because they were terrific and that's why it went to extra-time.
"At the same time, I've got to pay tribute to our tremendous character. We were under pressure but we didn't buckle.
"We switched off at the end of extra-time when they scored from another set-piece (through Wayne Allison) but we came back with lots of character and there were lots of positives for us."

Wise words from Iain Dowie for a very enjoyable football match, I don't like losing but you have to say that both sides didn't deseve to lose so a penalty shootout it was but we couldn't repeat the Wolves victory. It took a monumental effort from Derek Niven & Mark Allott just to lift themselves to take the penalties and sadly as they had used up all their energies as the midfield dynamos then they missed and worse for Allot in that he's missed 2 out of three penalties in the League Cup.

That said I'm full of praise for us and let's just hope that we can build on that performance and take into a tough game on Saturday, I say tough and I really mean it, on paper it is but I know from experiences such as Macclesfield, Enfield & Morecambe that this game has a habit of bringing you right back to earth. £10000 up for grabs let's hope it's us with the cheque we need it.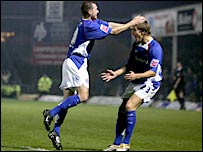 Goal Larkin!!