Ticket News: £10 on the gate, £5 (Season Ticket Holders Voucher N) if you present it on the gate at Oldham.
Listen Live: Spireites World (
www.chesterfield-fc.co.uk
)
Team News: Likely that Roy makes a few changes but at least Seven of the Team must have started most of the games for this season as is the new rules for this Comp. So what will be the side, maybe I should concentrate on who's not playing. Injured: Paul Shaw,Alex Bailey and Phil Picken are the only ones missing from the Squad.
We have never played Oldham before in this competition, and with the fact of the cheap entry and no extra time, a few Spireites should make the trip. Whilst it's at times annoying this comp this seaon looks like one which we could win, surely we should think about trying to win trophies, Instead of the Banner Jones Middleton Trophy every year.
Spireites @ Boundary Park
05/06 L1 L 1-4 Niven
04/05 L1 L 1-4 Folan
03/04 L1 L 0-2
02/03 L1 L 0-4
01/02 L1 D 1-1 Willis
In the last four years there is a theme here, we always lose and on three of them occasions we have conceded four goals. It's a real bogey place and we never play well, incidentally we last won there in the relegation season of 99/00 after John Duncan had been sacked.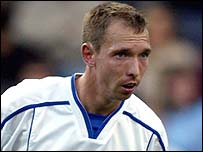 Former Latics player Mark Allott