The Spireites decided to rest a few players for the weekend despite the prospect of a cup run possiblity. Roy Mcfarland continues to chop and change a side that has the basis of being in the play offs this season, but when you change the defence as much as he does then it's impossible to have that continuity.
The Chief played last night which means that he won't be playing on Saturday after playing at Milton Keynes, Alan O'Hare was preferred at Centre-Back to Janos Kovacs so Shane Nicholson was allowed to play two games back to back.
Where do our priorities lie? They lie in the League, it's quite obvious that we make no attempt to get further in the cups. Roy Mac may harp on about him having lost every cup game bar one whilst in charge of the Spireites but from what we have seen so far apart from the Tranmere game in the FA Cup about two years ago we have been decidedly woeful it's getting embarrassing.
Think about the financial consequences when we play Macclesfield next season in the Football League Trophy at Saltergate in front of less than a thousand. Why are we not attempting to get a cup run? Why do we keep shooting ourselves in the foot by changing the team?
Anyway roll on Saturday against the league leaders Huddersfield Town, we'll probably beat them which makes last night's defeat worse to comprehend.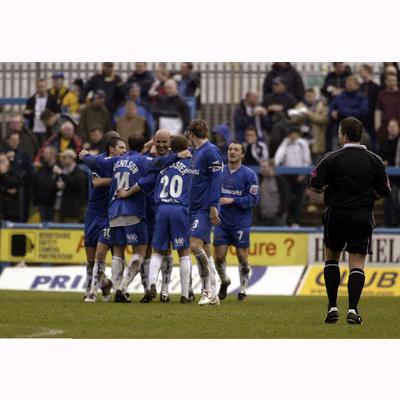 Need a little more of this