From the BBC Website.

Chesterfield defender Steve Blatherwick is to seek further advice on a back injury which is threatening to curtail his football career.
The 32-year-old is to see another specialist after a visit during the week proved inconclusive.
Chesterfield boss Roy McFarland told his club's website that another expert was going to examine Blatherwick.
"The prognosis doesn't look good. The injury is starting to look as though it is career-threatening," McFarland said.

This is very worrying news from our point of view, if we are to get out of this division our hopes were slightly better off with Blathers in the team, on a sad note too this is a man who dropped his income when the club was in major trouble to stay at the club he loves.

Blatherwick was signed by John Duncan intially on loan from Burnley but was signed some weeks later for around £50000 a steal in our eyes. He was signed as cover for Mark Williams and Ian Breckin but when Willo left he soon made this position his own and his partnership with Breckin was the best I have seen for years.

Tempered by Injuries during his time with the Spireites, Blathers has always battled back but this time it looks to have finally beaten him, but fingers crossed but I feel it may be in vain. Good Luck Steve in all you do in the future.

For the Spireites.

Apperances: 252 inc sub
Goals: 11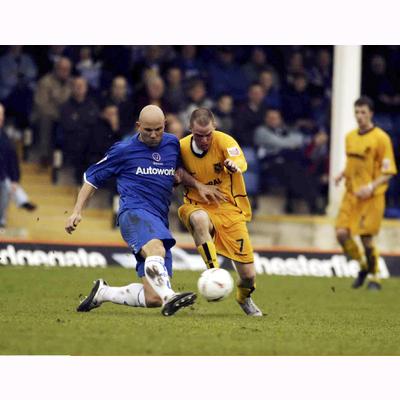 Blathers in action