The Spireites have only the injury concerns of Aaron Downes and Caleb Folan before Saturday's game with league leaders Huddersfield. Downes hasn't played since the first home match of the season v Brentford and Folan injured during a practice match nearly a couple of weeks ago.
The Spireites go into Saturday's game with a mixed bag of results over the last three games a victory over Colchester in the league coupled with a draw at Milton Keynes and a defeat at Macclesfield in the LDV Cup. All games away from home.
We will be hoping to see ex-Spireites Hudson, Carss and Brandon at Saltergate with all three players rested at last night's defeat to Boston United.
Early reports are that Huddersfield are expected to sell out their allocation of about 2500, this game has been designated a Category B game where visiting supporters are ripped off/charged an extra £1 for making the visit.
No real Team news at present for the Terriers as no info coming from the Galpharm at the mo, will update site when possible.
Last Time at Saltergate:
Carling Cup 1st Round Wed 24 Aug
Spireites 2-4 Huddersfield Town, Niven, Hurst Att: 2922
Team: Muggleton, Picken, Nicholson, Blatherwick,Kovacs, Hall, Allott, Niven, Hurst, Larkin, Allison
Subs, Roche, O'Hare, Davies, Smith, N'Toya
Tickets On Sale for Kop £16, Wing Stand, £18, Compton Street, £18 Centre Stand £20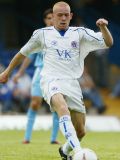 Derek Niven scorer last time out v Terriers
SEASON TICKET HOLDERS REMEMBER THIS GAME IS TICKET NUMBER 7 NOT 6 WHICH IS THE GAME V BRISTOL CITY ON WED 26 OCT 2005