Tickets: Public Sale Now, Adults £16, Senior Citizens and Students £10, U16's £5, Under 9's are Free but tickets must be purchased before MatchDay. Ticket Office No. (01246) 209765
Saturday see's the Spireites travel to London to take on Leyton Orient, it's the second time in two years in the FA Cup. Last Season it was an embarrassing trip to Scunthorpe which the Spireites lost 2-0, so another tricky tie is in order.
Last Time out for Orient was a 1-0 home victory against Oxford United with a goal by Craig Easton.
Leyton Orient from, Garner, Lockwood, Simpson, Mackie, Easton, Keith, Zakuani, Miller, Tudor, Ibhere, Alexander, McMahon, Carlisle, Morris, Echanomi, Hanson.
Orient's manager Martin Ling today won the League Two Manager of the Month award for October, let's hope we don't see why he won the League Two manager of the month award.
On to the Spireites lineup, we expect Roy Mcfarland to name only one change with Derek Niven coming in for Sammy Clingan who is cup-tied. Only Aaron Downes and Caleb Folan are ruled out.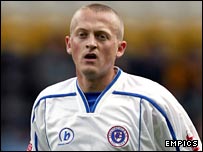 Sammy Clingan Cup-Tied
Spireites from Roche, Bailey, Nicholson, Blatherwick, Hazell, Hall, Allott, Niven, Hurst, Allison, Larkin, Muggleton, O'Hare, Davies, Kovacs, Smith, Picken.
We have referred to last season's time in the FA Cup away at Scunthorpe. Let's look at the last time we played Leyton Orient.
Saturday 7th April 2001 Division Three Fixture.
Att: 4793
Leyton Orient 2-0 Chesterfield
Spireites Lineup that Day: Mike Pollitt, Steve Payne, Ian Breckin, Steve Blatherwick, Michael Simpkins, Lee Richardson, Marcus Ebdon, Jon Howard, Rob Edwards, David Reeves, Luke Beckett. Subs: Ingledow, Williams, Willis, Armstrong, Beaumont.
Derbyshire Teams left in FA Cup: Chesterfield, Derby County (round three)