Match Tickets: £19/£17/£15 MAIN STAND TICKETS PLEASE PURCHASE IN ADVANCE 01246 209765 otherwise please pay on the gate.
Listen Live: Spireites World
www.chesterfield-fc.co.uk
Squad News: We shall have to see if we play our full side, Folan & Allott are doubtful having only just been picked to play midweek. Upfront I would expect to see Allison and Larkin with Jackson on the bench. Mark Hughes has been added to the squad after missing out against Charlton and I 'm not too sure of Michael Standing whose contract runs out tomorrow. Gareth Davies may be expected to be placed on the bench also.
Basingstoke Squad News: To Follow
Last Six for the "stoke": DWDDDD
Basingstoke are currently bottom of the Conference South having won 1 in 14 matches, never before have they played us, in fact the last time we played someone of this level it was Enfield who were before re-organisation three divisions below in the Ryman League, and we all know what happened then.
I hate the term "Cup Final" when Wednesday were our standard they always used to comment on teams visiting Hillsborough that it was the oppositions cup final, patronising to say the least and never entertains in the spirit of things, I will be disappointed if I hear Roy Mac or any of our fans using this term.
Let's just get throug this somehow grab the cash and be one away from another possible Premiership tie. We need these Cup runs for the finances but we also need them for maximum exposure for the Club to ascertain potential investment let's make no bones about this, subject to certain criteria this club is for Sale and the Cup Run we have just had will provide investment if it be the selling of players or potential advertisment for certain products.
Only today Manchester City have thrown there hat into the Caleb Folan ring so will he be gone in January and how much for? Thats not for me to decide but it's thanks to the Cup Run that we are marketing Folan at all, from last season where he couldn't hit a barn to making headline news the same year, rubbish game this football malarky isn't it?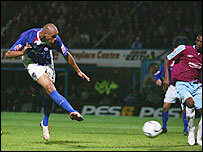 Up for Sale?