Ticket News: Pay on the Gate £18/£14.50/£8 Seats Only.
Listen Live: Spireites World
www.chesterfield-fc.co.uk
Squad News: We have only Folan not available to suspension (1 match) and Shinner who has just been farmed out on loan so other than that we have a full squad fit and ready.
Crewe were relegated out of the championship last season and pose problems as always under Dario Gradi as his sides play excellent football. When John Duncan was manger we generally had the wood over Gradi's teams as they couldn't play Johnny No Goals defensive football. However this time we may be ripe for a thrashing away from home as Roy Mac's catenaccio is not as good purely on the basis that it's a very young defence we have.
Crewe's Last Six: LLDWLW
Spireites @ Gresty Road Last Five
02/03 L1 D 0-0
96/97 L1 W 2-1 Morris, Ebdon
95/96 L1 L 0-3
93/94 L1 W 1-0 Curtis
92/93 L1 W 2-0 Lemon, Carr
The Draw currently is favourite at the minute.
Having ground out a win at home to Cheltenham our last away performance at Gillingham was a defeat of the cruelest but we aim to achieve at least a point at Alex. We have an excellent record there but it depends what side Roy Mac puts out. Personally I would keep the same side except bring in Larkin for the suspended Folan. Here's to three points hopefully as we continue our push up the table.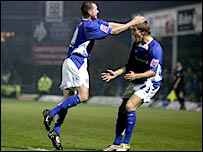 Come on Larks!!