Ticket News: £19/£17/£15 plus concessions. MIDLAND CO-OP is running a buy one get one free ticket scheme for this match on a first come first served basis. Please Contact the Ticket Office for for further details 01246 209765
Listen Live : Spireites World
www.chesterfield-fc.co.uk
Squad News: Paul Shaw & Alex Bailey and Mark Allott come back into the squad which is welcome news, Phil Picken won't make it this week and doubtful is Colin Larkin who has a virus.
Cheltenham have only played here twice, the first time was live on SKY Sports where we were rampant at that stage and won 2-0 both goals within the first 15 minutes. Sadly this game was marred by the useless propaganda machine of Darren Brown with his Banners stipulating the closed off Kop stating "Under Norton this will stay closed" in reference to the proposed buyback of CFC Ltd by ex-chairman Norton Lea...thank god for all Spireites neither wishes came true!!
Cheltenham have improved over recent years which culminted with the play off victory over Grimsby Town which enables us to play them at the weekend. Manager John Ward won't be at the game on Saturday as he is having an operation. Best of Luck John.
Cheltenhams Last Six: LLLWLD
Cheltenham @ Saltergate
02/03 L1 D 2-2 Bradley, Howson
00/01 L1 W 2-0 Reeves, Edwards
Our form suggests that we are not going to win this one, Last time we had a victory at Saltergate in the League was the win against Brentford on September 23rd.
In fact over the course of this season and last in the League we have won only NINE matches at Home out of a total of 31 games played here...thats nothing short of disgraceful, tempered by only the fact that we have drew Nine as well but we have lost 13 matches as we simply roll over to sides with a bit of quality, if were going to lose at home at least put in a Southend rather than two Swansea's if you get my drift. Why can we not play at Home, this is something that Roy has had to deal with since he has started and let's face it his stats make interesting reading.
At Home since Roy joined the Club in May 2003 we have played (league games only) 77 matches and here are the stats.
P 77 W 27 D 24 L 26 (WE HAVE LOST 26 MATCHES AT HOME IN THREE AND A BIT SEASONS) This is an alarming trend and something needs to be addressed. Hope fully Saturday we can kickstart our season and still aim to get promoted after all thats what we all want right?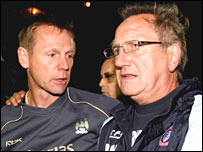 "Don't worry you'll get giantkilled too"