Bristol City (Away) Ticket News
Category C Game, Adults £18 Students & Senior Citizens £14 U-16's £10
£4 discount if you book tickets in advance from the Bristol City Ticket Office 08701121897 no tickets are on sale at the Spireite Ticket Office.
So out of the cup yet again, it's time for the league to take a hammering as we look to bounce back with a victory over the low-flying brizzle.
City have been the most disappointing side to visit Saltergate this season looking woeful in attack and eventually woeful in defence, to be fair if they hadn't played five at the back we would have had more than the three.
Marcus Stewart a city fan missed the game at saltergate due to a facial injury but he will be all guns blazing with what is rumoured to be his last game with a possible loan move then permanant deal to Millwall in the offing. With Michael Bridges on loan at Carlisle United it's up to the lacklustre James Quinn and the injured Stephen Brooker for the firepower.
We meanwhile have no further injury problems although Alex Bailey picked a slight niggle but should make the trip. Good news in that Aaron Downes is almost fully fit and Caleb Folan is perhaps looking at Brentford away for his comeback which is needed because surely the Chief needs a bit of a rest.
Last Season of course was the famous three-two game live on SKY our first win in Bristol ever and we shall be looking for a double.
Last Time out v Bristol City
26-10-2005 League Two Att: 5027
Chesterfield 3-0 Bristol City
Allison, Nicholson 2 (1pen)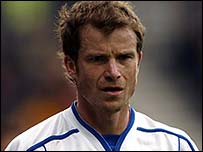 Shinner bags two v Brizzle