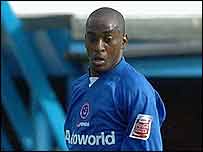 Last Season's scorer JCR
The Spireites take to the road again for another trip to Moss Rose, Macclesfield. Last Season the Spireites went away with a 2-1 defeat Jamal Campbell-Ryce scoring and the season before we played at Saltergate where the Spireites beat Macc 2-1.
Team News for the Blues is that Wayne Allison is being rested and Caleb Folan is out with a hamstring injury and Gareth Davies is also a doubt with a back injury.
Macclesfield Town come into this match after a thumping 4-0 defeat at home to Peterborough United. Macclesfield latest signing is former Huddersfield and Darlington striker Clyde Winjhard or as the Darlo fans called him Whingehard after a few temper problems in the North-East.
Macclesfield's season is getting worse and so is the injury list Neil Mckenzie being the latest Macc player out after Saturday's game.
The Spireites go into this match with an ok record in the Football League Trophy. We have a a few Northern Semi Final appearances although a first round KO last season wouldn't be good. Under Mcfarland we have a woeful record in the cups we've never got to the second round in any of them.