The Spireites reserves beat Coventry yesterday afternoon in a pre-arranged game with some useful work outs for a few players.Goals from Colin Larkin, Shane Nicholson (pen), Adam Smith and Jamie Jackson were enough to secure victory against it's higher division opponents.
Line up.
1.Michael Jordan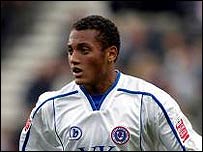 Smiffy Scored!
2.Jamie Lowry
3.Shane Nicholson
4. Gareth Davies
5. Janos Kovacs
6. Alan O'Hare
7. Reuben Wiggins-Thomas
8.Trialist
9. Jamie Jackson
10. Colin Larkin
11.Adam Smith
A Coventry player (un-named ) came onto replace Shinner in the second half after around 70 mins.