It's the 25th Year since we beat Notts County in the Final of the Anglo-Scottish Cup, a two legged affair we won it in extra time by a cheeky Alan Crawford back heel.
Many of the players who appeared during the run which included a two legged defeat of Glasgow Rangers will be there to have their say on the events that happened during the whole run to the final. These players include:-
Gary Pollard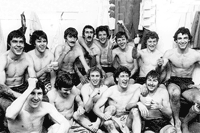 1981 Winners Town!
Phil Walker
Ernie Moss
Sean O'Neill
Alan Birch
Geoff Salmons
Bill Green
Les Hunter
Andy Kowalski
Frank Barlow
Phil Bonnyman
Paul Gregory
Alan Crawford
John Turner
Danny Wilson
Billy Dearden
Colin Tartt
Tickets are available from the Club Shop and the Spar Shop on Whittington Moor priced at £5 which includes Pie and Peas and a free poster.
www.thecfss.co.uk